---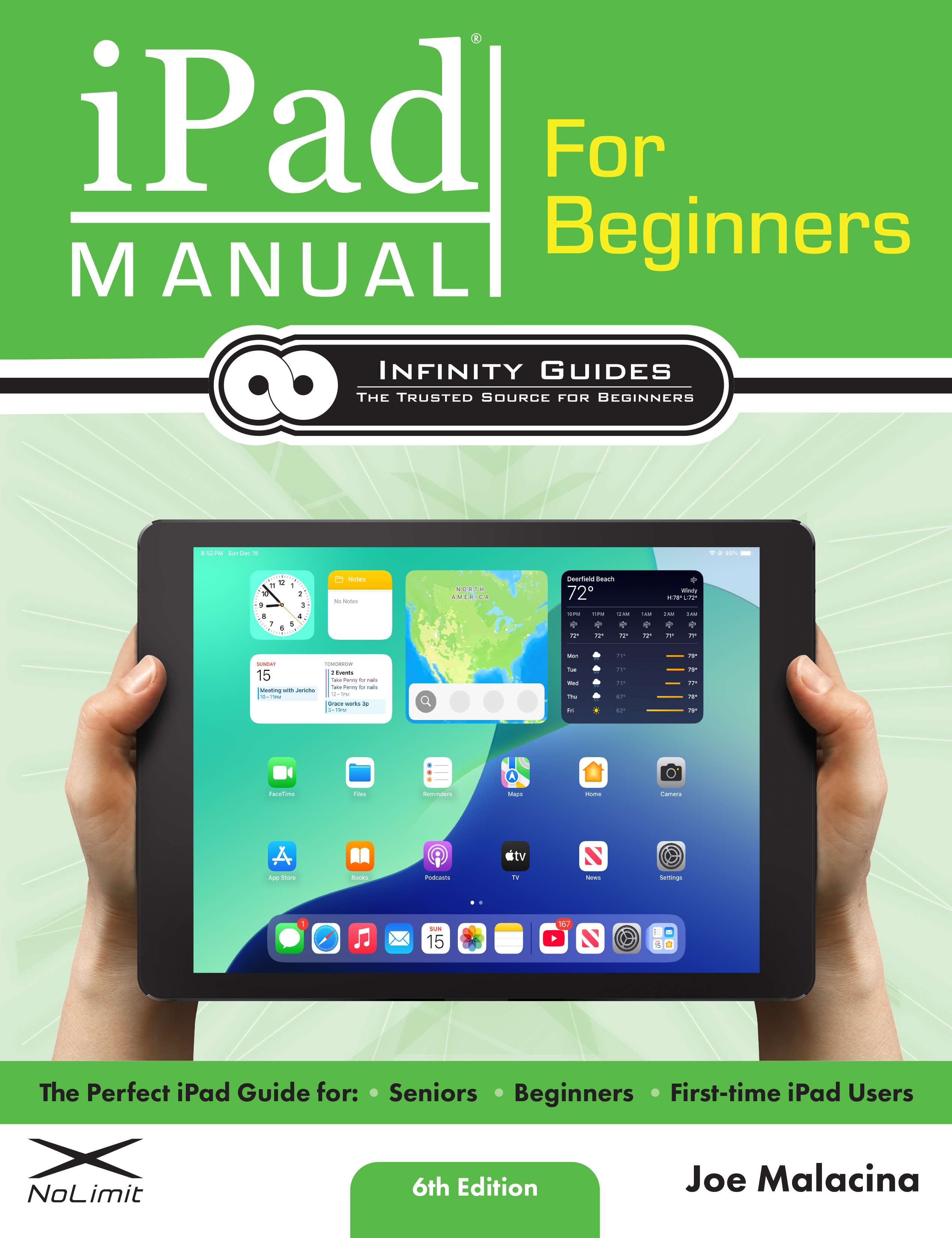 iPad Manual for Beginners Book
Covers ALL iPad Models, including the: Air, Air 2, 4th Gen, 5th Gen (2017-2018), 6th Gen (2018-2019), 7th Gen (2019-2020), 8th Gen (2020-2021), Mini, Mini 2, Mini 3, Mini 4, & Pro
Author: Joe Malacina
Publisher: No Limit Enterprises, Inc.
Now in its 5th Edition!
Pages: 150
Price:
$24.95
SPECIAL 20% OFF OFFER: $19.99
Description:
---
The iPad Manual for Beginners is the complete guide to using the iPad. This book was made with the beginner in mind, and is great for seniors and first-time users. The book is suitable for ALL models, including the: Air, Air 2, 4th Generation, 5th Generation, 6th Generation, 7th Generation, 8th Generation, Mini, Mini 2, Mini 3, Mini 4, & Pro. This book teaches you the building blocks of using the iPad. It starts out by going over the physical properties of the device, followed by defining some key terms that every user needs to know. Then the book goes into instruction mode, teaching you all the basics including: creating an Apple ID (which is extremely important), creating and importing a contact list, surfing the internet, setting up your e-mail, using all the apps, personalizing your iPad, securing your iPad, downloading apps and using the App Store, text messaging, phone calls, tips and tricks, and much more.
This will be the only guide for your iPad that you will ever need. You can read it in one sitting, and keep it handy as a reference manual. By the time you are finished with it, you will have a complete intuitive understanding of the iPad. You will never have to struggle with your iPad again and you will be able to use all of its native apps confidently.
Highlights of the book:
---
Clear, step by step instructions on how to do the most common and useful tasks on the iPad
High quality, full-color illustrations of exactly what your iPad's screen will look like for an easy learning experience.
Tips & Tricks to help you get the most benefit out of using your iPad
A detailed Table of Contents so you can use the book as a reference manual as needed
Appendices offering recommendations on apps, shortcuts to quick iPad functions, and Siri examples.
Very detailed instructions on how to setup your extremely important Apple ID, and how to use your Apple ID effectively
The book covers all the basics and more, from a beginner's perspective, including:
Setting up your iPad with Optimal Settings
Creating and using your Apple ID
Physical Layout of iPad
Creating and Importing Contact List
Navigating your iPad
Connecting to Wi-Fi and Internet
Using E-mail
Browsing the Web
Using your Camera
Photos and Videos
Security on your iPad
Personalizing your iPad
Organizing your iPad
Using and Downloading Apps
Using the Calendar, Notes, iBooks, and other iPad Apps
iPad Notifications
Siri
Text Messaging on your iPad
Making and Receiving Phone Calls on your iPad
Using FaceTime (Video Calls)
Backing up your iPad's Data
Updating your iPad's Software
Tips, Tricks, and much more
---
Ordering Information
Paperback, ships anywhere in the world.
iPad Manual for Beginners - $24.95 SPECIAL 20% OFF OFFER: $19.99 + shipping